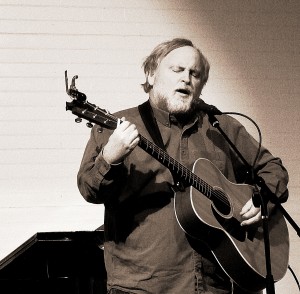 Singer. Songwriter. Folk Singer. David Lister crafts songs, one at a time. The good ones he keeps. Those are the ones you'll find him performing at venues in southwestern New Hampshire and central Massachusetts. Wistful songs about family, relationships, and unanticipated discovery. Songs that bite. Songs that make you laugh. Songs that can be uncomfortable.
A native of the Pacific Northwest, David moved his family to New England in 1980. A frequent performer at area open mikes for the past two decades, he currently hosts  The Meeting House Stage, a monthly open mike in Rindge, New Hampshire that normally takes place on the second Friday of each month. 
In addition to being a solo performer, Dave is a member of The Bone Orchard Ramblers, a trio that resides firmly within the intersection of traditional folk music and Americana.
David's many musical influences includes musicians Guy Clark, Todd Snider, Ian Tyson, and Townes Van Zandt. Whether performing his own songs, or songs written by someone else, David puts his own personal stamp on them all.